TAP HERE
TO GO TO PAGE 2
AND THE 2014 NEWSLETTERS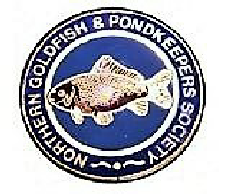 NGPS Information
The Northern Goldfish and Pondkeepers Society (NGPS) was founded in 1959.
It caters for people who are interested in keeping and breeding all forms of Fancy Goldfish.
The Society is proud of its northern roots but membership now covers all of the country and abroad; members are welcome from all areas. The NGPS is one of the country's top specialist fish societies and membership is essential for all those seriously interested in Goldfish.
All aspects of Goldfish history, husbandry, breeding and showing are covered, live fish are often featured, visiting speakers attend and society visits are arranged in a friendly, informed atmosphere. Members have access to rare Goldfish varieties that just can't be bought in the shops, such as London Shubunkins, Fantails, Wakin, true Orandas, Pom-pons, Bubble-eyes, Ryukin, the beautiful British-originated Bristol Shubunkin and the legendary Veiltail (yes, they really do exist).
The Society has extensive contacts with breeders and institutions nationally and internationally, especially in the Far East and uniquely holds in Britain part of the Chinese National Goldfish Collection. Occasional foreign 'Goldfish' holidays are arranged for members, we have been to China, Hong Kong, Singapore and Japan.
The Northern Goldfish and Pondkeepers Society holds meetings several times a year, though at present these are suspended because of Covid. There is no requirement to attend the meetings, though this is undoubtedly the way to get maximum benefit from membership and all meetings minutes along with articles and features are included in the monthly Newsletter (on-line or sent to members by post).
An annual open show is held every year in Manchester on the second Saturday in September at St. Matthews Church Hall, Chester Road, Stretford, Manchester M32 9AJ.
Members who show their fish can win awards, as judged by specialist Goldfish judges. Full details on how to join are on page 10 of this website or you can get more information on the Society from the Chairman, Sherridan Moores,
email: moores_s@sky.com
NORTHERN GOLDFISH &
PONDKEEPERS SOCIETY
The website has the following pages - tap
on the page number to visit. This is the
HOME page and by tapping that name you will return here.
The next few pages carry links to the NGPS Newsletters of past years - tap the first
page image to download a PDF version for
reading or printing.
To receive the current year's Newsletters you need to be a paid-up member - see details on page number 10.
Page No. 2 - newsletters from year 2014

Page No. 3 - newsletters from year 2015

Page No. 4 - newsletters from year 2016

Page No. 5 - newsletters from year 2017

Page No. 6 - newsletters from year 2018

Page No. 7 - newsletters from year 2019

Page No. 8 - newsletters from year 2020


Page No. 9 - newsletters from year 2021

Page No. 10 - Membership Forms

Page No. 11 - Social Activities

Page No. 12 - News

Page No. 13 - Showtime

Page No. 14 - Nationwide News